Yeah, really!
Under the snow and palm trees this weekend, we had several exciting things happening in our venues.
First up: Auditions!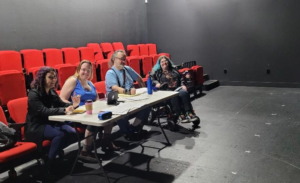 The creative team of Truly Outrageous: An Unofficial Jem and the Holograms Parody Musical held auditions at The Madnani Theater on Saturday. They'll be performing at studio/stage during the Hollywood Fringe Festival this June. This fun and campy homage to the 80s favorite, Jem and the Holograms is being developed and written by Brandie June with music by Becca McGlynn and directed by Jim Blanchette. We're thrilled to have this powerhouse creative team in our venues this summer! Tickets go on sale in May, and they're sure to go fast! Check out their show page for more details.
Meanwhile, at studio/stage…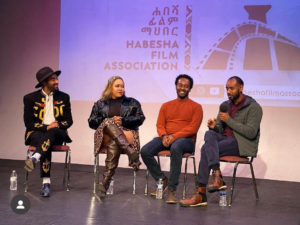 Yesterday, the Habesha Film Association celebrated their third anniversary with a screening of four short films made by their members, a panel discussion and networking mixer. This was the first time the HFA has held an event at studio/stage, but it sounds like it certainly won't be the last!
Coming this weekend: The Official Opening of The Madnani Theater!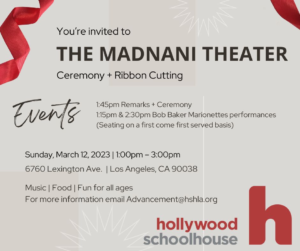 If you'd like to take a look at this brand new space come on by for the official opening Sunday May 12 1pm – 3pm. Avoid Hollywood and Highland and look out for Oscar traffic!
Now for some BIG NEWS!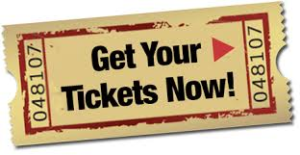 The StageCrafts are now partnering with Stagey Technologies, the fantastic ticketing platform that powers the Hollywood Fringe and offering a FREE ticketing service to all productions in our venues! We used this platform ourselves for our production of A Very DIE HARD Christmas this past December, and from a producer's point of view it was really user friendly and convenient. We're so excited to be able to offer this service to our clients and their patrons! Check it out at events.thestagecrafts.com!
As a matter of fact, give our new ticketing site a spin and RSVP for our upcoming housewarming and community mixer at The Madnani Theater using the Stagey embeddable widget below!
THE MADNANI THEATER HOUSEWARMING!
That's it for this week! Stay tuned for some super exciting things we have in the works!