The Madnani Theater is now open!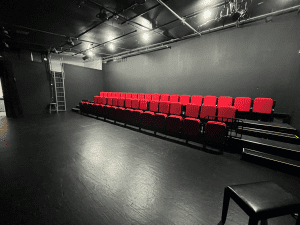 Just a few blocks away from The Oscars, there was a small but significant celebration in the LA Theatre Community today: the official opening of The Madnani Theater!
With so many spaces in Hollywood closing during the last few years, we're thrilled to bring this brand new renovated space to the community. We've already had some rehearsals, auditions and meetings in the space, but now we're ready for some full productions! In fact, July weekends are already booked with a show in The Madnani!
The Madnani is also ready to book for Hollywood Fringe! It's a great space for Fringe – centrally located right next to The McCadden Theatre, 49 seats, and 100% ADA compliant and accessible. Go ahead and submit and application here: https://www.hollywoodfringe.org/venues/556 or contact us to set up a tour.
Also, join Greg and I on April 2nd from 2pm to 5pm at The Madnani Housewarming and Community Mixer! Click the link to RSVP via our new ticketing site, or use the widget below:
THE MADNANI THEATER HOUSEWARMING!
Coming Up This Week: Creating Captivating Characters with Soaring Solo Studios!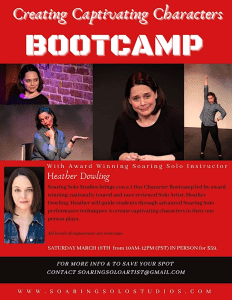 Soaring Solo Studios brings you a One-Day Character Bootcamp led by award winning, nationally toured and rave reviewed Solo Artist, Heather Dowling. Heather will guide students through advanced Soaring Solo performance techniques to create captivating characters in their one person plays.
This month at studio/stage: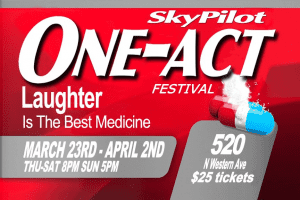 As we're gearing up for Fringe (studio/stage is JUST about to sell out!) we're doing more and more tours in all three venues. Make sure to check out the venue pages and submit an application if you'd like to set up a tour:
We also have numerous shows coming in before Fringe!
Opening March 24 at studio/stage
Last autumn, the acclaimed SkyPilot Theatre Company sought submissions for its annual One Act Festival. After receiving a record number of plays, seven outstanding works were chosen and will be presented over two weekends, March 23rd through March 26th and March 30th through April 2nd, at Studio/Stage, 520 N Western Ave., Los Angeles. Thursday through Saturday performances will be at 8pm, and Sundays will be at 5pm. The productions, categorized as Series A and Series B, are open to the public with tickets for $25 per night or $40 for a festival pass to see both Series A and B (festival pass can be purchased or upgraded at the box office).
The theme for this year's festival is "Laughter Is the Best Medicine," inspired by the communal need for that feel-good chemical rush of endorphins and a mood boost during these trying times.  A giggle a day keeps the doctor away, but thanks to science, we know laughter is one of the best tools we have for dealing with stress, reducing pain, boosting the immune system, relaxing the muscles, increasing blood flow, and even burning calories. Cant argue with that! The benefits of laughing alone are truly endless, adding zest to life, diffusing conflict, and building resilience. However, anyone who's howled or guffawed in a room full of theatergoers knows that sharing a laugh is even better, forging bonds and memories to cherish forever.
Series A (Thursday, March 23rd, Saturday, March 25th, Friday, March 31st, and Sunday, April 2nd) includes:
What Can I Get For You?, written by Nick Freedson and directed by Aditya Putcha.
Mead and Stu Teach a Seminar, written by Rom Watson and directed by Daniel Guzman.
Trick or Treat, written by David S. Liu and directed by Bernadette Armstrong.
Series B (Friday, March 24th, Sunday, March 26th, Thursday, March 30th, and Saturday, April 1st) includes:
All My Exes Walk Into a Bar, written by Elke Thoms and directed by Tudi Roche.
Leda, written by Melanie Garber-Letitia and directed by Effie Spence.
Fast Food Order, written by Art Shulman and directed by Morris Schorr.
Toast, written by Ria Parody Erlich and directed by Tina Walsch.
Coming to studio/stage in April:
April 14 – 16:
Much Ado About Nothing presented by Playground Renaissance Theatre Company
April 21 – 23:
Mattress by Jacksyn Toppenberg.
Things are about to get very busy! What are you excited about this month?